Name of Cat: Mapletail
Gender: She-cat
Rank: Medicine Cat
Tribe: SunTribe
Age: 28 moons
Season born in: Cold-Wind
Description or Pic: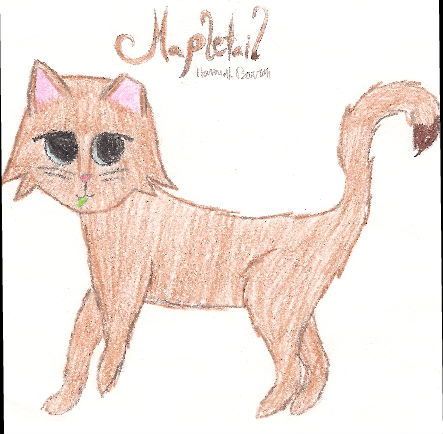 Personality: She is very energetic and loves her tribe members. She works hard and tries to stay on task.
Flaws:
Physical; her front left leg is smaller than her other legs, making her stumble often. Also, when she was an apprentice, a rouge cat had clawed off part of her left ear
Other; She is very easily distracted by the world around her
History: She was born at the beginning of a very harsh, cold leaf-bare, which is when she decided she someday wanted to be a medicine cat, because all he sick cats made her sad and she wanted to be able to help them.
Other: in spite the fact that her front left leg is short, she is a very fast runner.
Last edited by EpicLove on Tue Aug 03, 2010 8:49 am; edited 1 time in total